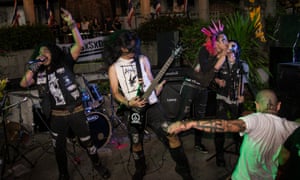 "It's been four years, motherfucker!" – this is how a group of Thai punks promoted their gig, earlier this month, marking the fourth anniversary of military rule in the country.
The provocative slogan, directed at junta leader Prayuth Chan-ocha, helped the event's Facebook page go viral, piquing the interest of pro-democracy activists and putting the small underground scene in the national spotlight.
A larger than usual crowd showed up at the concert, which was held at a monument commemorating student-led protests in 1973. Those protests succeeded in bringing down a despised military dictatorship – but only after troops opened fire on the crowds, killing at least 77.
Such atrocities are a recurring horror in Thailand, where the state also killed its own people in 1976, 1992 and in 2010, when around 90 pro-democracy "red shirt" protesters were killed during military crackdowns led by General Prayuth.
However, in 2014, Prayuth sat back and watched as rival protests against the elected government of Yingluck Shinawatra, whom the red shirts supported, paralysed Bangkok. When he finally did intervene, it was not to support the government but to seize power himself. Although the junta has its supporters, opposition is widespread and only kept in check by oppression. Elections have been promised for 2019, but even if they do go ahead, the signs are that Prayuth is aiming to use them as a way to legitimise his power and remain in control.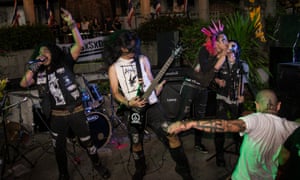 Thailand punk band Blood Soaked Street of Social Decay, with Kitikea 'Pure Punk' Kanpim on back-up vocals. Photograph: Tawan Pongphat
Outside the gig, uniformed police stood guard but allowed people to move in and out freely. Undercover agents worked inside, filming and taking photos. Among the crowd of punk kids were some stalwarts from the pro-democracy movement, keen to take part in any activity against the junta, even if it meant subjecting their ears to noisy and strange music. I recognised a group of older women – referred to as "aunties" in Thai — whom I knew to be red shirt activists.
One of them, a nurse in her 60s from just outside Bangkok, told me she had no idea about punk – Thai country music is more her style – but she came along because she's angry about the state of the country. "It's been four years of military rule now," she complained. "We need elections."
As bands such as Shock Shuck and Drunk All Day treated the crowd to three-chord riffs and four-letter expletives aimed at Prayuth, I chatted to one of the event organisers.
"The Thai punk scene in the past has only cared about partying," hesays. "I organised this event because I think punk should be rebellious. I care about freedom and rights."
The thrash metal band Killing Fields certainly don't play party music. Their lyrics and imagery deal with dark periods of Thai history, such as the massacre of students at Thammasat University in 1976, which is still quite a taboo subject in Thailand. A gruesome photo from the atrocity will be familiar to fans of the US punk band Dead Kennedys.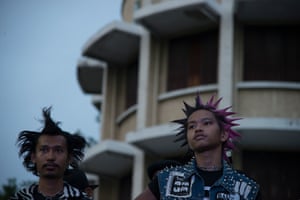 Blood Soaked Street of Social Decay and Anarthipathai (Thai for anarchy) aren't light entertainment either. Both bands played blistering sets of politically charged grindcore that got the crowd slam-dancing, with dozens of pairs of Dr Martens, Converse and Vans stomping furiously on an anti-Prayuth banner laid out on the ground.
Mhee, the drummer and spokesperson of Blood Soaked Street of Social Decay – often styled as BxSxSxSxD – is pessimistic about Thailand's political prospects. "The whole world is moving on but we are still stuck in the same place," he told me, referring to the country's vicious cycle of elections, coups, protests and massacres. He distrusts all forms of authority but concedes that "democracy is the 'least worst' system because it allows for accountability. With a dictatorship, you can't check on them or criticise them."
Music hasn't been this political in Thailand since the tumult of the 1970s, when bands such as Caravan grew out of the popular uprising and pioneered a wave of socially conscious folk-rock, known in Thai as "songs for life". But after the trauma of the 1976 student massacre, the progressive movement grew weary and the counterculture soon faded away.
Since the 80s, Thai music has been dominated by bland pop and soft rock, churning out love songs with the same sugary vocal delivery. When youth cultures were imported from overseas – punk, metal, indie, hip-hop – the style was imitated flawlessly but the sense of rebellion often seemed to have been lost along the way. "Thai kids just aren't interested in politics" is a common refrain.
But a deep and protracted political crisis has convulsed Thailand for more than a decade now. And while the younger generation seemed uninterested at first, there are signs that this could be changing. Since the 2014 coup, young Thais have been bravely leading the small but determined resistance movement against it.
And if punk isn't your thing, then politics has been popping up in other youthful cultural forms, too: a quarter of a million people follow the satirical comic strips of "kai meow" (cat's balls) on Facebook; a vibrant street-art scene has started targeting the junta with murals; hobbyists make politically themed designer toys that can sell out in minutes, and a young gender activist recently made a retro-style board game that mocks the country's regressive politics.