It is a few minutes after 6pm, and Lim Lao Sa, a fishball noodle stand tucked into an alleyway near the Chao Phraya River in Bangkok, has just opened. Rain is falling, hard. A series of deftly arranged tarps shelter patrons sitting on red plastic stools at a handful of tables. Water drizzles off the tarp edges, down the concrete walls and past exposed wiring. Fluorescent bulbs cast harsh shadows. Lim Lao Sa's owners – a brother and sister who have inherited the 60-year-old business from their father – bicker vigorously.
My friend Win Luanchaison, a real-estate developer and fervent culinary explorer, and I tuck into our bowls. The quenelle-like fishballs are at once springy and creamy, the rice noodles supple, the broth clear and sure of purpose.
It is easy to understand why Lim Lao Sa cook annually for the Thai Princess Maha Chakri Sirindhorn. "She eats egg noodles served dry," says  Pawita Boriboonchaisiri, the sister.
In fact, given all of this – the setting, the food, the feeling that Lim Lao Sa could be washed away in an instant, by a bad mood or even worse weather – I decide that Lim Lao Sa is the platonic ideal of street food. And it is precisely why I have come to Bangkok.
Last April, the Bangkok Metropolitan Administration (BMA) made international headlines when it announced that the city of more than 8 million would ban street food vendors – often considered the world's best – in order to make sidewalks more accessible. The BMA soon walked back its statement, saying street food would be preserved in Chinatown and the Khao San Road backpacker district, but elsewhere it would be eliminated, the vendors relocated from "vital walkways", as the Tourism Authority of Thailand put it, to "designated zones and nearby markets". This would happen by year's end. Eventually. Maybe. Sometime.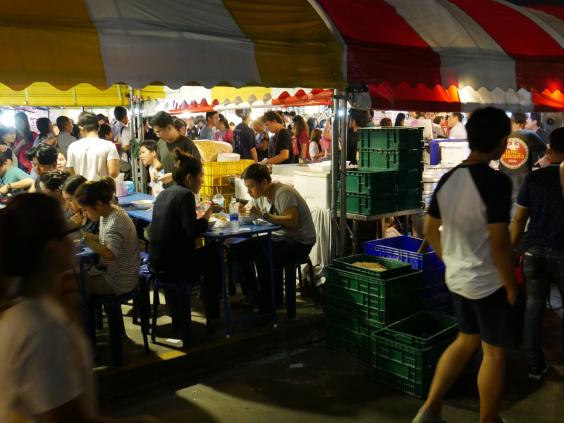 The Train Night Market sells everything from street food to souvenirs, clothes to antiques (Getty)
I wasn't going to take a chance. If Bangkok's ad hoc restaurants were threatened – not only by clean-sidewalk-loving governments but, just as seriously, also by gentrification and changing tastes – I had to go before it was too late. In July, I flew to Bangkok for a week of eating nothing but street food. Pretty much immediately, I learn that street food is a term with many definitions.
"For me, street food is only a cart," says Duangporn Songvisava, known as Bo, who with her husband, Dylan Jones, runs the restaurants Bo.lan, which received a Michelin star in December, and Err, which serves rustic drinking food with a focus on quality ingredients. When she was young, Songvisava, now 37, remembers, as many as 20 carts would line up outside her school to sell snacks on sticks. "They have, like, the moo ping – grilled pork on a stick, barbecue – the sausage, the fishball. It just fills you up before you have dinner."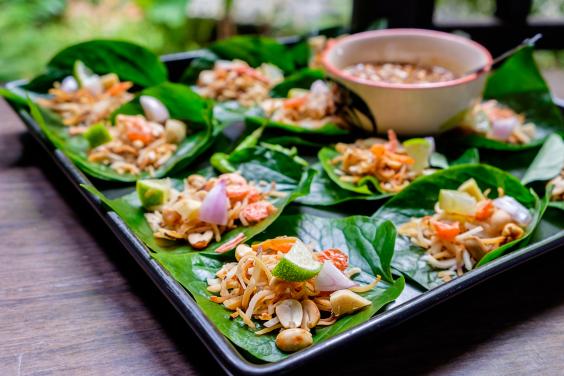 Miang Kham, or 'one bite wrap', is a traditional snack sold by vendors all over Thailand (Getty)
Some were pushcarts, others bicycle-based, but all were mobile and ephemeral.
That, she says, was the tail end of the golden age of Bangkok street food. "In the old days when someone wants to open a cart or a stall, they know how to cook," she says. "The idea was, you're a good cook – maybe you should make some food for other people, for a living."
Now, Songvisava says, profit margins rule. "They just buy everything from the factory, use industrial processed food," she says. "A lot of seasoning and MSG involved to produce the food because people doesn't complain."
Songvisava is telling me this over beers at Talad Saphan Phut, a night market that she considers a sad remedy for Bangkok's street food woes. It is here, at a lonely, out-of-the-way parking lot, that the city has relocated vendors from the slated-for-destruction Flower Market, on the theory that loyal customers will follow.
We are joined by an intrepid eating crew, which includes Jones; Chawadee Nualkhair, the blogger, known as Chow, behind Bangkok Glutton; and writer Vincent Vichit-Vadakan, who has put me up for my stay and now edits the Michelin Guide's Bangkok site.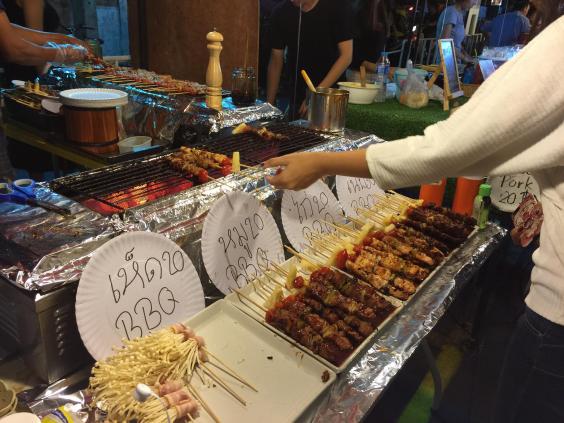 Bangkok can provide adventurous diners with hours of culinary exploration – if they know where to go (Flickr)
"This is like a good five to 10 kilometres from where the original was," Nualkhair says. "So the people who used to eat these guys' food wouldn't come here on a regular basis with this special trip." Only a few vendors in all of Bangkok, she estimates, cook well enough that people will follow them to new locations.
We decide to drown our concerns in the most apropos way: with street food. Along Thanon Chan, in a surprisingly quiet little neighbourhood, are sois, or alleyways, full of food vendors, who have been relocated off the main street. Our gang descends upon them, ordering bowls of noodles – yen ta fo, pink rice noodles in broth with wontons and fishballs, and bamee moodaeng, ribbony egg noodles with roast pork – and watery rice porridge studded with bits of duck or nuggets of coagulated blood, and sweet braised pig's foot, and bags of all kinds of fried things.
As we crowd around folding metal tables and accentuate our treasures with chilies in vinegar, or ground dried chilies, and crack open Thai craft beers, it all feels deliciously normal – the kind of Bangkok street food life I've always imagined. That picture grows more complex over the next few days. In the mornings, I leave Vincent's apartment in search of coffee – and more often than not return with a baggie of sticky rice and skewers of sweet, fatty grilled pork from the moo-ping cart stationed outside his front door. (Vincent lives near a university, so there is a steady flow of hungry, frugal students.)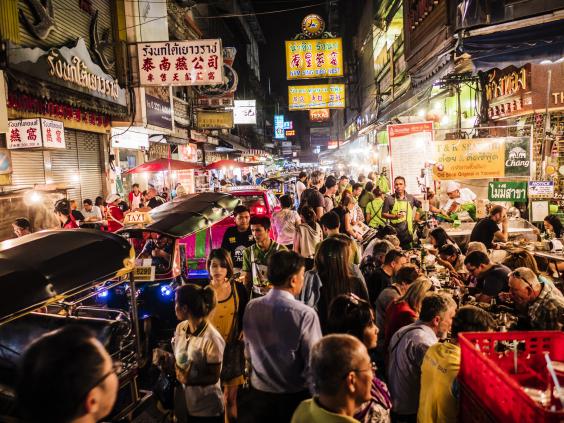 Chinatown is an excellent place to begin for its density of talented vendors and the official protection they enjoy
By lunchtime, I hook up with a friend for exploratory eating. With Dwight Turner, an American who has blogged for years at Bangkok Fatty, I go to the farther reaches of Sukhumvit Road, a central artery through Bangkok.
In the old days when someone wants to open a cart or a stall, they know how to cook. The idea was, you're a good cook – maybe you should make some food for other people, for a living
Several Skytrain stops past the glistening condos and megamalls, the street food crackdown doesn't seem to matter, and Turner and I have to squeeze past countless vendors – of curries, sausages, fruit, flowers, electronics – occupying sidewalk space.
For Turner, street food is not necessarily defined by mobility. "The necessity," he says, "is that it's convenient, at a price that people are willing to pay."
His definition – which will no doubt enrage certain corners of the internet – opens up what I consider street food to include in Bangkok's shophouse restaurants: boxy, frill-free dining rooms where the cooking is done up front, in a kitchen that's often little more than an elaborate, sedentary cart. Such is the case at Sai Kaew, the duck noodle shop Turner brings me to.
Yaowarat Road is the heart of Chinatown's street food zone, and the offerings reflect its 200-year history (Getty)
"In the beginning, I worked full-time in an office like most Thais," says Sai Kaew's owner, Ruengchai Chartmongkoljaroen. Thirty years ago, however, he quit his job to push a cart. He set up 10 tables on a sidewalk space he'd rented in front of a building, walked his cart in circles to attract attention, and of course worked on his recipes, developing the condiment that became his calling card: light, crunchy, slippery boiled duck intestines, or sai kaew. (Excellent with a slather of his vibrant green hot sauce, and a worthy foil for the sweetly rich duck.) The price for a bowl in 1987: 10 baht, or about 20 pence at the time.
"Day one, we opened from 12pm to 2am," he says. "We sold half a duck."
Business improved, but even so, he pushed the cart for 16 years before parking it at this shophouse, where, on a good day, he and his two daughters, who've learned the business from childhood, will go through "50 big ducks". Although his duck noodles are now well known, the price remains right: lunch for two was 160 baht, or less than $5 (£3).
This trajectory was one I heard time and again as I ate everything from delicate pig's brain to incendiary papaya salad to rice noodles stir-fried on a charcoal-fired wok. There might be many reasons to open a cart but, eventually, almost everyone wants the security of bricks and mortar.
Even Pritipal Singh Sirikumar, whose stand selling crisp, yummy samosas was founded by his father some 50 years ago, dreams of moving from his open-air nook – about the size of a couch – at the corner of a Chinatown soi. He says it would be to have his own shophouse. "Then we can put in tables and chairs. We can serve more customers. I will serve lassi."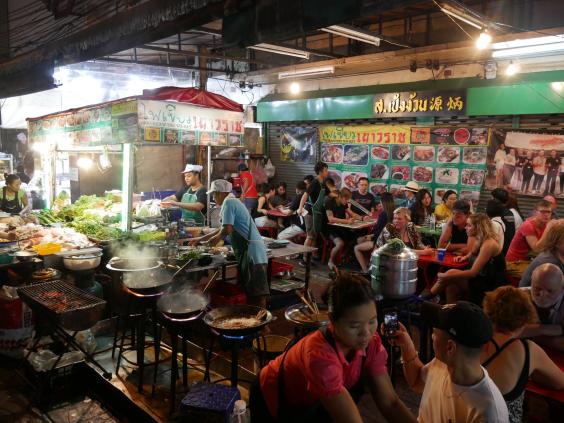 Eat your way round Bangkok, from rolled rice noodles with pork belly to boiled lotus root on crushed ice (Getty)
Sirikumar's sentiments are echoed by people like Pongsuang Kunprasop, known as Note, a friend I haven't seen in a decade but who refuses to eat street food with me. "Been sharing sidewalks with rats and cockroachs at night for all my life," he wrote in an email.
Precariousness is the new status quo. The uncertainty alone is enough to move people out of town
Over the course of a week, I do not see much vermin, nor do I fall ill. (I did carry charcoal pills, a gift from Songvisava and Jones, to counteract food poisoning.) But I also come to appreciate the appeal of air conditioning and to understand that the romance attached to the cart, by Thais as well as Westerners, does not always mesh with reality.
It's hard work to push a cart, and unless you get lucky – like Raan Jay Fai, a crab omelette stall that won a Michelin star in December (and that is now so busy the owner says she would like to return the star) – a shophouse restaurant, a permanent stall in a covered market or even a job cooking "street food" in the food court of a fancy mall promises stability. And for Thais, entering the middle class is often about strolling down a clear sidewalk to work, dining in air conditioned comfort and going home to a modern condo.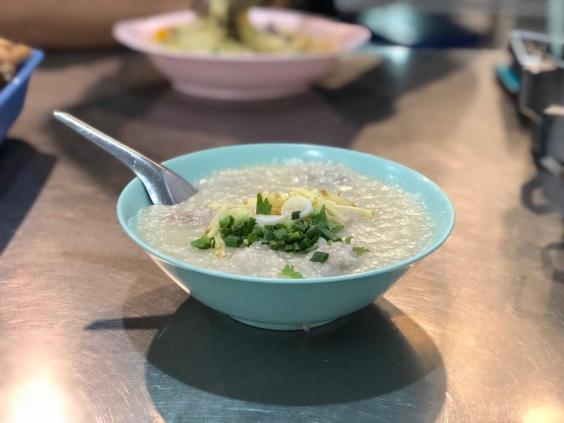 Thai congee is a breakfast rice porridge often served with pork meatballs, fried onions and garlic (Jok Sam Yan)
Today, nearly a year after the crackdown, Bangkok's street food vendors and aficionados have grown accustomed to constant change. Talad Saphan Phut, the market where I had talked with Songvisava, shut down in December, and the street food-centric Sam Yan neighbourhood is being redeveloped by Chulalongkorn University, whose projects have already displaced vendors in numerous areas.
Street food in Bangkok has always been defined by mobility and ephemerality, but this is something new. "Precariousness is the new status quo," Nualkhair of Bangkok Glutton wrote via Facebook. "The uncertainty alone is enough to move people out of town."
At the same time, street food is a long way from its demise. For every tale I hear of police clearing vendors away, I find a bamee moodaeng stall making its own noodles or hear the late morning call of a vendor selling curries and fermented rice noodles.
However endangered street food is, pursuing it remains an eye-opening way to discover a city like Bangkok. One morning, Rattama Pongponrat, known as Pom, an ebullient culinary consultant and former curator at Museum Siam, leads me on a day-long binge, from a breakfast of toast with coconut jam to a sidewalk stand selling noodles with atypically thick slices of offal. There is fried chicken piled atop metal tables. There is glorious mango ice cream from a dinky corner shop.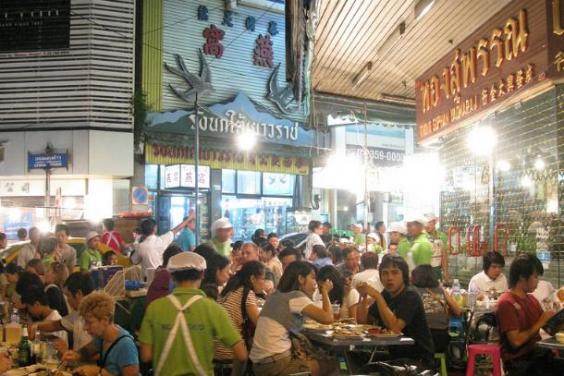 Finding street food in Bangkok is easy – finding the really good stuff takes a little more effort (Flickr)
And there is Pongponrat, overjoyed at it all. When the sun is high, we stride through the shaded alleyways of Chinatown, past tropical fruits pickled in chilies, batter-fried squid roe with a spicy-sweet sauce – until, finally, we burst out onto a bridge where Pongponrat hopes to find one particular vendor. Instead, the bridge has been entirely cleared.
"Oh, my God, it's all gone!" Pongponrat shouts. "I never knew it was a bridge. I've never seen this before in my life." She begins swearing, then looks up at a well-tended four-storey building, yellow with green shutters, the crisp style at once Chinese and neoclassical. "What a beautiful building," she says in wonder. Then we plung back into the fray to find another snack.
If you go
Finding street food in Bangkok is easy – you'll see fishball and satay stands parked, it seems, in front of nearly every 7-Eleven – but finding the really good stuff takes a little more effort, and a bit of wandering.
Chinatown is an excellent place to begin, for its density of talented vendors and for the official protection they enjoy (at least for the moment). Yaowarat Road is the heart of its street food zone – think rolled rice noodles with crispy pork belly, or sweet boiled lotus root on crushed ice – but if you wander a little farther afield, you'll encounter the fishball-noodle stand Lim Lao Sa (on Song Wat Road near Trok Saphan Yuan), Natthapon Coconut Ice Cream (on Phraeng Phuthon Road), and the high end drinking-food restaurant Err (394/35 Maha Rat Road; errbkk.com).
They just buy everything from the factory, use industrial processed food. A lot of seasoning and MSG involved to produce the food because people don't complain
For a stroll through not-yet-gentrified Bangkok, take the Skytrain to Udom Suk station and head down Sukhumvit Road soi 103, through numerous vendors crowding the sidewalk. (Try them!) To the left, in the marketplace, is a bamee moodaeng stall that makes its own excellent noodles, and a few blocks north-east is Sai Kaew, the duck noodle soup shop.
To see another way street food is evolving, check out Talad Ruam Sab, known as the Lunch Market, across Asok Road (Sukhumvit soi 21) from Srinakharinwirot University. There you'll find dozens of tiny stalls serving items like sweet braised pig's leg and fiery crab curry with fermented rice noodles.
Finally, there is the Michelin Guide, whose Bangkok edition includes 28 street food vendors (all in shophouses, technically). Find it online at guide.michelin.com/th/en/bangkok
© New York Times
Reuse content
Source link