Floyd Mayweather's most cherished record is no longer his alone.
The Thai boxer Wanheng Menayothin improved to 50-0 on Wednesday, equaling Mayweather's career mark with a fifth-round knockout of Panama's Leroy Estrada in defense of the WBC minimumweight title he's held since 2014.
The 32-year-old Wanheng, the Thai boxer who is known as the Giant Dwarf, has 18 knockouts among his 50 wins.
The record-tying win comes three years to the day of Mayweather's summit meeting with Manny Pacquiao in Las Vegas.
"I thought it would be tougher," said Wanheng, who defended the 105lb title for the ninth time. "He is young and fast. But he lost guard early and I took the opportunity. It was easy from then on."
Wanheng sent Estrada to the floor twice in the second round again in the fourth in a packed makeshift ring outside the provincial hall in the north-eastern city of Nakhon Ratchasima.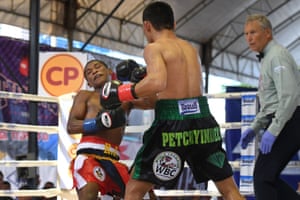 "I was never confident that I was winning as it was a 12-round fight," Wanheng said. "Now I'm happy that I have matched Mayweather's record."
Wanheng said he wasn't thinking about winning 51 straight fights, but said he would keep training hard for the next one.
"He is 32 but still very strong and fit," said Suparb Boonrod, Wanheng's coach. "He is very disciplined and is a hard-working man, so winning his 51st consecutive match is possible."
Mayweather, the five-division champion widely regarded as the finest boxer of his era, retired in August after stopping the two-division UFC champion Conor McGregor in the 10th round of their scheduled 12-round junior middleweight fight.
The victory elevated the American in the history books above Rocky Marciano, the former heavyweight champion who retired with a record of 49-0 in 1956. He had filed for five trademarks related to "50-0" in advance of the McGregor fight.
The all-time record for most victories without a loss is held by Mexican flyweight Ricardo Lopez, who retired with a 51-0-1 mark. But only Mayweather had reached the 50-win plateau without even a draw until Wednesday.
Wanheng, whose legal name is Chayaphon Moonsri, is an enrollee in the WBC's Clean Boxing Program administered in conjunction with Vada (Voluntary Anti-Doping Association).
Source link