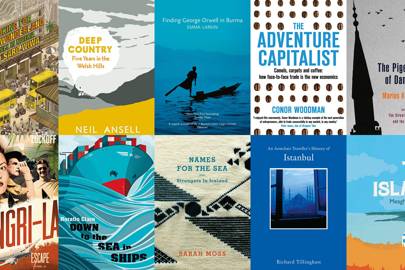 THE LIGHTS OF POINTE-NOIRE BY ALAIN MABANCKOU
A real rarity in the shape of a travel book by Congo's greatest writer, Alain Mabanckou. Much celebrated in France, he is from the Republic of Congo (the ROC, or Congo-Brazzaville, as it's sometimes called) rather than the bigger Democratic Republic of Congo, or DRC, formerly Zaire. The capitals of the two countries, Brazzaville and Kinshasa, are on opposite banks of the Congo River and are as different as could be, the former a dilapidated, fairly uninspiring place, the latter a throbbing metropolis.
The Lights of Pointe-Noire is primarily concerned with the ROC's more exciting second city, Pointe-Noire, which is on the coast, to the south-west of Brazzaville. Somewhat confusingly, Pointe-Noire is part of the setting for William Boyd's novel Brazzaville Beach, where the ecologist Hope Clearwater reflects on her life in the tranquillity of a beachside villa.
In Mabanckou's hands, a different picture emerges, of 'the hurly burly of a coastal city with not much indulgence for people arriving with the soil of the fields on their feet'. The reference is to the author's mother, who arrives in Pointe-Noire from a rural village with baby Alain on her hip, abandoned by his father. She becomes a successful market trader. On the day in 1989 that Alain leaves for Paris as a young man of 22, she reminds him of the Pointe-Noire that she brought him to: '"That was the golden age,' she said, 'we wore mini-skirts and high heels and the men went round in bell-bottomed trousers and Salamander shoes. Pointe-Noire was famous for its atmosphere, and everyone had work. Even Zairians started to arrive, though up till then you'd only see them in Brazzaville, they'd come over from Kinshasa, crossing the River Congo.'" Now, she says, the country is falling to pieces.
But the changes are as nothing to those that Mabanckou himself will find on his return, a quarter of a century later, by which time the country has suffered the effects of Communist dictatorship and civil war. He wanders about the city, visiting the train station where conductors used to pursue those without tickets along the roofs of trains, the cinema where he used to watch martial-arts films, which is now a Pentecostal church, and the streets where the books and comics that began his literary education were spread out for sale on pavements.
One particular feature of this engaging book is that he keeps meeting the real-life characters who populate his novels, of which the best known are Memoirs of a Porcupine (2006), which won the Prix Renaudot, one of France's premier literary honours, and Black Bazaar (2009), which chronicles the lives of the various members of the African diaspora who frequent Jip's, an Afro-Cuban bar near Les Halles in Paris. That, at least, still exists.
Like this? Now read:
Ambassadors recommend one book to read before visiting their country
David Bailey Peru: introduced by Grace Coddington
Source link