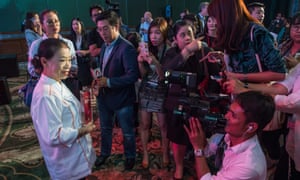 The Thai street food legend Jay Fai had not heard of Michelin stars until she was awarded one.
The diminutive 72-year-old had been wok-frying her signature crab omelettes and prawn noodle dishes six days a week for the last few decades, and when she first received an invite to the Bangkok awards ceremony, she rejected it. She said she did not want to take a day off work.
"Doesn't Michelin sell tyres? What are they doing with food?" she said at her shophouse, which spills out into an alley in the capital's old district and is now flooded with tourists snapping photos as they wait up to half a day for a table.
The team at Michelin, which judiciously hands out the world's most prestigious accolade a restaurant can receive, had to convince her.
"I asked them: 'What would I do at a gala dinner?' And they said: 'Jay Fai, you don't have to do anything.'" She declined again. Michelin eventually reached out to her daughter, who works with her mother as a waitress and speaks English.
"She told me: 'Mum, you really have to go. We can close a restaurant for one day.'"
Still confused, Jay Fai reluctantly agreed. She shuttered her shophouse and headed for the five-star Grand Hyatt hotel.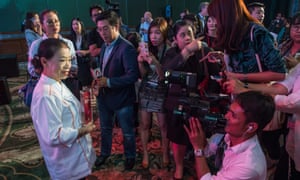 Jay Fai with her Michelin award. Photograph: Roberto Schmidt/AFP/Getty Images
"When I got there, I was shocked because it wasn't an ordinary event. There were chefs everywhere … I was afraid it was a cooking competition, and I didn't want that," he said.
"There was this lengthy speech by the Michelin people. And I thought that everything was done," she said. "Then suddenly, they called my name up. And my daughter said: 'Mum, why are you still sitting here? They called your name.'
"When I stood on the stage and was presented with the award, I told myself: 'This is my lifetime achievement award.'"
Jay Fai joins a Hong Kong dim sum seller and a Singaporean chicken rice hawker in Michelin's latest nod to street food. Many of the other 16 restaurants awarded stars this month in Bangkok were luxury restaurants in upscale hotels.
She has been cooking since she was a child, and used to sell pork rice porridge in the market. Her family business made a name for itself with its quality of ingredients, charging three times the usual price for prime cuts of meat.
Today, most of Bangkok's top chefs have been to Jay Fai's, which had a reputation for the best street food even before the award. Her prawns are much larger than most sold on the pavements, and her unique seasoning – "never shop bought" – made her crab curries famous.
"I never learned from anybody. Learning is too much theory. Yes, the food will look good if you know how to decorate dishes, but for me, I cook like a housewife."
Wearing her signature black beanie and ski goggles to protect her eyes from the burning hot oil, Jay Fai fries on two charcoal stoves from 1 pm to 1 am. She lives upstairs.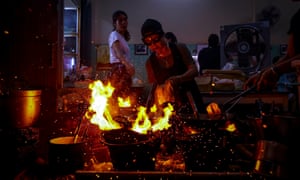 The spartan restaurant is decorated with simple green tiles and some small framed news articles, some more than two decades old. One photo shows a visit from Martha Stewart. Coke cans and Thai beers sit in a glass-fronted fridge, and there's a toilet under the stairs.
The award brought mixed blessings, she says. The restaurant is now busier than ever, which is welcome after a lull in the Thai economy led to a drop in customers.
Old friends have since been back in contact. One woman, also 72, used to know Jay Fai from childhood days on the market.
"I had never eaten here because the prices were so high," said Rungrat Yangyeansin as she waited for a table. "But the day after she got the Michelin star, I decided to come. I had to eat here before I died."
Her husband and son gave her 10,000 baht (£230), and she took a bus to the restaurant where she waited four hours for a table. Eventually, she sat by herself as her old friend fried her a plate of abalone, a giant sea snail.
Other visitors, however, have been less welcome. A few days after the ceremony, tax department officials visited and started asking questions.
Jay Fai was furious. She told them: "If you keep pressuring me, I will give this Michelin award back. I will do it. Just wait and see."
For the most part, Jay Fai seems untouched by her newfound fame and promises not to raise the price or change the decor.
"I am old now, but I will keep doing my best. I'll never change," she said.