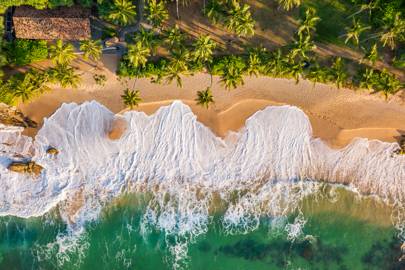 Your holiday look?
'In Sri Lanka it's a silk sarong. The weather on the coast there is so warm that clothes are superfluous – the only reason one needs them is to protect one's modesty. After a day on the beach there is nothing more comfortable to wear. My favourite one is made of black and olive-green silk, which I bought at Barefoot in Colombo.'
The items always in your holiday wardrobe?
'I have a bright-orange cashmere beanie, which I roll down over my eyes when I want to sleep on a plane. I used to have blue ones, but I would always lose them as most planes have blue seats and carpets and I would fail to spot it when disembarking. My other must-haves include a large multipurpose wool shawl from India that I use as a blanket, pillow, turban, shawl or to wrap precious or fragile finds. Also swimming trunks – I always have a pair in my bag as there is nothing more irritating than ending up on a beautiful beach or by a stunning pool and not being able to swim as you don't have your bathers.'
Your wash-bag essentials?
'I push myself very hard when I travel so I always carry sachets of rehydration salts with electrolytes – if it's really hot and you're sweating buckets and beginning to feel a little rough, all you need to do is take one and it will put a spring in your step in a matter of minutes. The second would be Eight Hour Cream by Elizabeth Arden – it is an absolute miracle product and it amuses me that people might think it's a bit girlie. Little do they know that it is a firm favourite with some of the world's most hardcore and respected expedition leaders, especially for trips to the South Pole and up Everest. The third thing would be sleeping pills – I have some really good ones. I take a lot of long-haul flights and all I need to do is pop half just after take-off and I wake up eight hours later. "Beam me up Scotty!" It's almost like being teleported – it makes long flights painless and allows me always to hit the ground running.'
Source link