London institution Lina Stores has stolen hearts across the city with its retro interiors and soothing green hues. Trading as a delicatessen in Soho since 1944, the shop branched out into a restaurant serving small plates of pasta and classic Italian side dishes. Here, head chef Masha Rener lets us in on her favourite super-quick pasta recipe: colatura di alici linguine.
How to maken Lina Stores colatura di alici linguine

Serves 5-6
Ingredients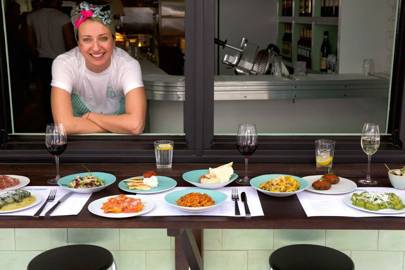 Method
Start by bringing the water to the boil and add two tablespoons of salt.
Once boiling, add the linguine and cook until al dente which should take around 10 to 12 minutes. Stir the pasta in the pot a few times while it's cooking so it doesn't stick together.
The rest of the ingredients can be prepared while the pasta is cooking.
Put the bread in a food processor until it turns into rough breadcrumbs.
Fry them in a pan with the extra-virgin olive oil until golden brown and crispy, then remove and put to the side.
Chop the garlic and chilli together and sauté in the same pan used for the bread for a minute or two.
Grate your lemon zest and roughly chop the parsley.
Once the linguine is done, drain from the water and pour into the pan with the chilli and garlic.
Add the lemon zest, parsley and breadcrumbs and stir in the anchovy essence (keep some breadcrumbs and parsley behind). Mix together.
Plate the dish and sprinkle the leftover breadcrumbs and parsley on top of the pasta.
Drizzle over a little extra-virgin olive oil and serve.
Like this? Now read:
Recipe: how to cook Padella's famous pasta dish at home
Recipe: how to cook Hoppers' famous devilled chilli paneer
Recipe: Jason Atherton shows us how to make pork Milanese at home
Source link