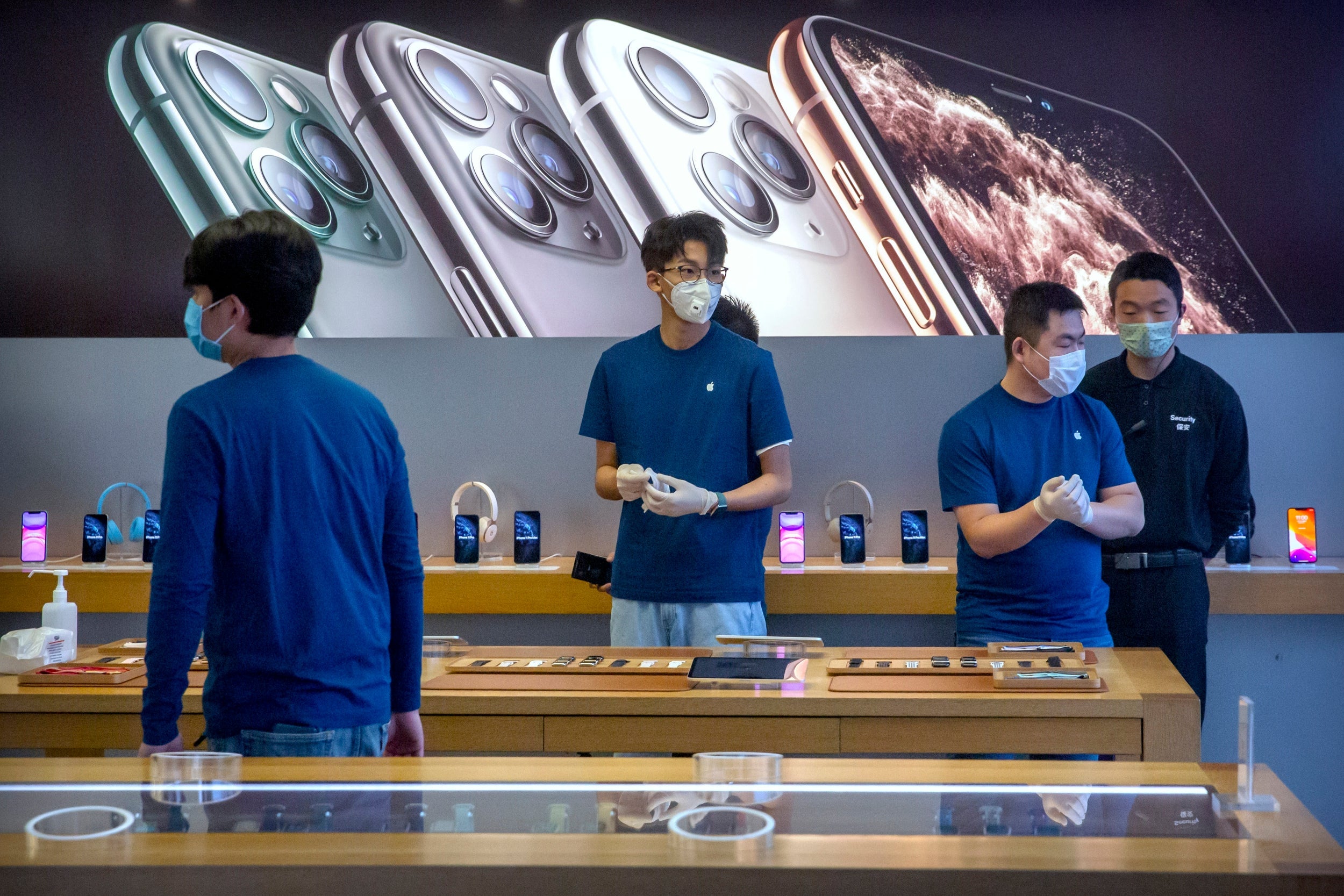 Apple and HSBC have become the latest corporate titans to warn that the coronavirus in Asia is likely to hurt profits as authorities battle to contain the spread of the deadly outbreak.
They are among scores of firms across industries from manufacturing to tourism to financial services that say the virus will be bad for business.
What has HSBC said?
Announcing massive job cuts, the London-based bank which depends on Asian markets for most of its profits said the virus had already caused significant disruption for staff suppliers and customers, particularly in China and mainland Hong Kong.
If it continues, HSBC said it would have to set aside up to £460m to cover additional costs, though the actual figure is forecast to come in much lower than this.
For a bank like HSBC, a significant part of the problem is likely to stem from business customers defaulting on their loan repayments as the virus continues to disrupt trading. 
Millions of people are being forced to stay at home and not travel, work and shop freely with an obvious knock-on impact on businesses.
Chief financial officer Ewen Stevenson attempted to put a positive spin on things, saying: "I think it's really a call on how long does it take to contain the virus, and certainly some of the latest data has given us more optimism on that over the last week or so."
What about Apple?
Apple said iPhone supplies would be affected and it would miss its second-quarter financial forecasts because Chinese workers are returning to their jobs slower than had been anticipated.
The iPhone maker brought in $13.6bn of sales in China during its latest quarter – about 15 per cent of the firm's global sales. That's a lot but still less than in the US or Europe.
But this will be a temporary blip, with a likely bounce once the virus is contained and economic activity returns to normal.
Of greater concern are shutdowns in the Chinese factories Apple relies on to make its products. This can quickly have an impact on global supplies. 
"Companies try to avoid tying up cash by having large stockpiles, even though that would help them to continue operating as normal at such times of supply chain disruption," explains Russ Mould, investment director at AJ Bell.
"Instead, they prefer to have the smallest amount of inventory possible in the hope that the supply chain always runs smoothly. That leaves little room for error, as Apple has now discovered."
Wider problems
Scores of firms have made similar warnings to HSBC and Apple. Any business that depends on a supply chain that includes China – as a great number do – are at risk of being impacted. 
Beyond China, "the most immediate economic implications will manifest through a fall in tourist arrivals from, and weaker exports of goods to China, and transmission to and through economies integrated into the Chinese supply chain," Moody's said in a recent note to clients.
Tourism is the industry most obviously affected with Malaysia, Singapore and Thailand among the countries to have restricted entries.
Travel limitations are also having affects further afield and has called one of the car industry's biggest annual events into question.
Experts have warned that the Geneva Motor Show, scheduled for next month, could be cancelled if exhibitors begin to withdraw because the health risks to staff are too high.
Countries reliant on manufacturing across the region will be impacted particularly badly as most rely on parts or raw material from China.
Japan's economy, which already contracted sharply in the last quarter of 2019 is expected to take a further hit from the virus. 
Global economy
As Holger Schmieding, chief economist at Berenberg bank wisely points out, economists are not qualified to judge how dangerous the spread of the virus may eventually be.
But they can look back at previous episodes and the obvious incident to reach for is the SARS pandemic in 2003 that grabbed the headlines as it caused around 800 deaths and led to severe disruptions in China between March and May of that year.
Economic data for 2003 show a temporary dip in Chinese GDP growth during the height of the SARS pandemic to 9.1 per cent in the second quarter of 2003 from 11.1 per cent in the previous quarter, followed by rates of 10 per cent in the final two quarters of the year.
Capital Economics estimates that global growth lost roughly one percentage point of growth but by the end of the year was some three points higher than before the SARS outbreak. The main impacts stemmed mainly from falls in retail sales and travel as people sought to avoid crowds through fear of contagion.
Source link