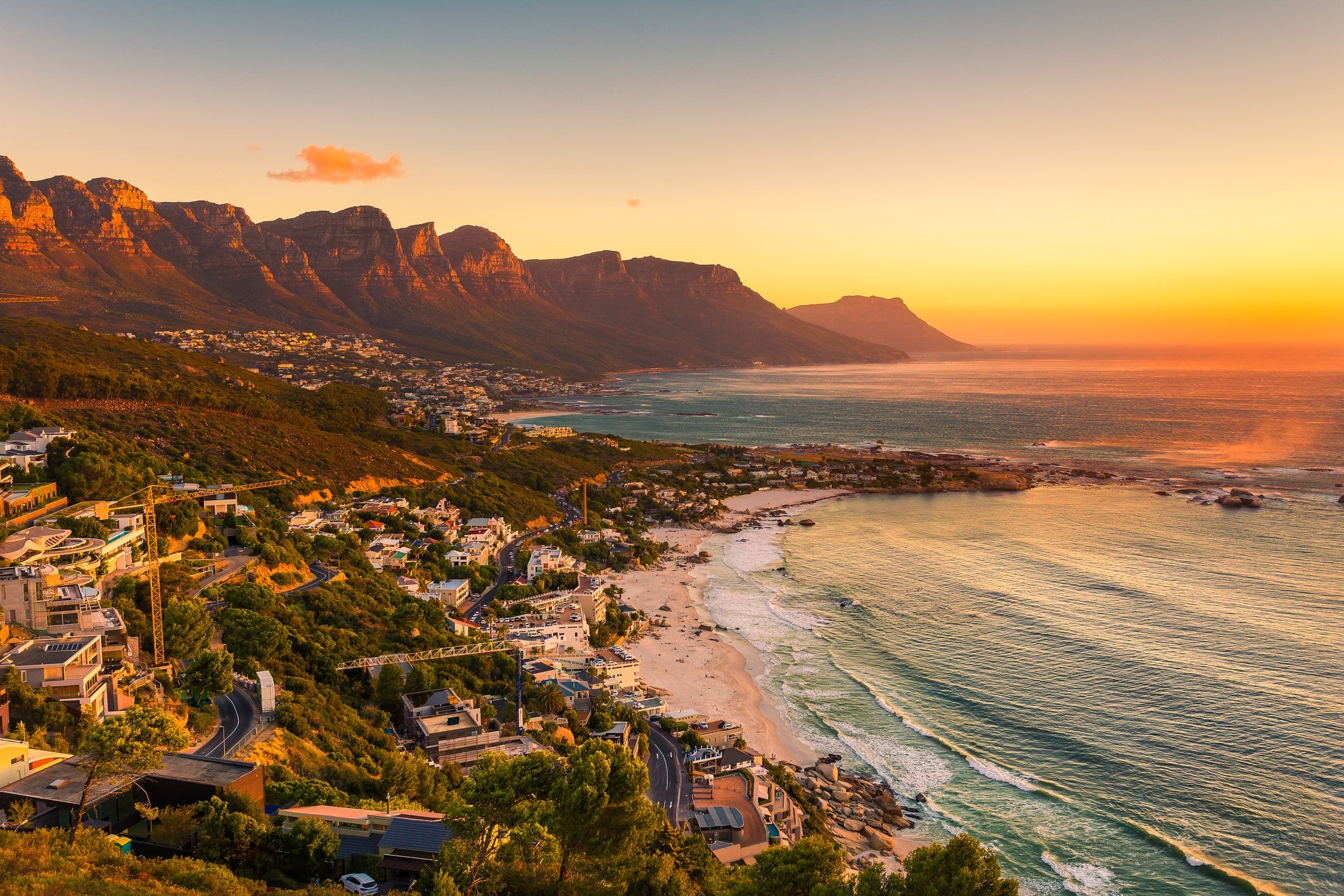 This time of year you'll need more than mulled wine to warm you up. Start planning now for your winter sun escape.
Cape Town, South Africa
Average January temperature: 27C
There's a mind-boggling choice of things to do in Cape Town. Start with a cable car ride up to Table Mountain and soak up all those gorgeous South Atlantic views. After a stroll around the Waterfront, take a ferry to Robben Island to see where Nelson Mandela was imprisoned for 27 years. While you're on the island, visit the splendid new Museum of Contemporary Art Africa. Make time for a sunset cocktail on the beach at Camps Bay.
Goa, India
Average January temperature: 32C
Goa's blend of Portugal and India is intoxicating – both in a culinary and a cultural sense. You'll see this especially in the capital, Panjim, with its white baroque churches and colourful colonial Portuguese architecture among Hindu temples. Not surprisingly, the beaches are a major draw, with everything from old hippie hangouts in the north around Arambol to laid-back beaches such as Mandrem for early-morning yoga. For a break from the beach, take a tour of the region's spice plantations.
Tenerife, Spain
Average January temperature: 21C
The largest of the Canary Islands is more than just a package-holiday bolthole for Brits. Take a cable car to Spain's highest peak at Mount Teide and go hiking in this glorious volcanic national park. At the other end of the island are the equally impressive Anaga Mountains and their lush green hiking trails. If you turn up in February, don't miss the spectacle of the Santa Cruz. And if it's beach action you're looking for, flop on the sands at Playa de las Teresitas or the beaches at Costa Adeje.
Click here for the best hotels in Tenerife
Barbados
Average January temperature: 29C
Barbados packs a lot of variety within a relatively small area. While the southern coast has a lot of beach resorts, you'll find more luxury and seclusion on the west. It's even quieter on the east coast, and there's also the green interior with its lavish botanic gardens and plantation houses. For true local cuisine, check out the Unesco-listed capital, Bridgetown.
Cape Verde
Average January temperature: 25C
This archipelago of 10 islands strung out into the Atlantic off the African coast has as much variety as you would expect from a volcanic chain. For a classic beach holiday, choose one of the resorts on the most popular island, Sal, or opt for the tranquillity of laid-back Boa Vista. Enjoy the lively vibe on the island of Sao Vicente, or go hiking in the dramatic mountains of Fogo or Santo Antao.
Thailand
Average January temperature: 27C
White sandy beaches, Buddhist temples, jungle treks, exceptional diving – you can have all of the above in Thailand. Set off for a hike in Khao Sok National Park or join the party in Phuket or Bangkok. Chill out in Chiang Mai, go on a tour of temples in the north or flop on one of the many islands dotted about the Andaman Sea. If you plan carefully, you could fit most of this in a single holiday.
Click here for the best hotels in Phuket
Costa Rica
Average January temperature: 27C
Costa Rica is a wildlife paradise, with cloud forests, volcanic peaks, mangrove swamps and hot springs. Its biodiversity is quite extraordinary in a relatively small area: you can go hiking in the Arenal Volcano National Park and bathe in hot springs one day, then trek through the dry heat and thundering waterfalls of Guanacaste the next. Paddle through the waterways of Tortuguero National Park before relaxing on beaches on the Caribbean and Pacific coasts.
Bali, Indonesia
Average January temperature: 27C
It's hard to resist Bali's beaches, and that's evidently the case at its most popular resorts at Canggu, Kuta and Seminyak. But you can find quieter parts of this Indonesian island, including the black volcanic sands of Balian Beach on the west coast and the chilled-out beaches around Amed on the eastern side. Head south to the powdery white sands of Nyang Nyang beach on the Bukit peninsula.
Dominican Republic
Average January temperature: 25C
If you tear yourself away from the all-inclusive resorts of Punta Cana, you'll discover just how diverse Dominican Republic is. Explore the mountains, mangrove lagoons and waterfalls of its fertile interior before wandering around the colonial streets of the capital, Santo Domingo, and Santiago. Drive over to the Samana peninsula if you want a peaceful day on the soft sands of Playa Rincon.
Maldives
Average January temperature: 27C
With more than 1,200 islands scattered around the Maldives, the choice of a beach resort can boggle the mind. They're not all luxury resorts, though, as more affordable options have been springing up in recent years and it's become easier to do some island-hopping. Whichever you choose, you'll still have gorgeous, white-sand beaches and some of the best snorkelling and diving in the world.
Source link