For three weeks, Sunan Chombua has waited anxiously for news about his son. On 7 October, a photograph shared online showed Komkrit Chombua, 29, sitting on the floor, head bowed, among a group of hostages taken by Hamas.
"When I looked at the phone and I saw his picture, I knew immediately it was him," Sunan said. "I want the government to negotiate with them quicker, faster. I want to see him again, I want him to come home."
Komkrit had moved from his home in rural Thailand four years ago to work in Israel, one of thousands of Thais who have done so, often propping up the country's agriculture sector. This month they have found themselves in the centre of a war zone, and Thais are thought to be the biggest group of foreign nationals killed or missing in the Hamas attacks, according to Israel.
The Thai government has said 22 of its nationals have been taken hostage. A further 32 have been killed and 19 injured.
Komkrit's parents had never wanted him to move away for work, but the salary abroad is far higher. "He just wanted to help us," said Sunan, who is a subsistence rice farmer. "Before, we didn't have a proper house, just a small little hut. We didn't have money."
Komkrit sent back enough money for his parents to build a home. "He hasn't had a chance to see it yet," Sunan said.
Komkrit would call every weekday but didn't talk much about life in Israel, instead asking if his father had eaten, and telling them he would send money soon.
In Israel he could earn the equivalent of up to 50,000 baht (£1,145) a month – far more than the minimum wage in Thailand, which is about 10,620 baht a month. He worked first in agriculture and then construction.
Komkrit had told them before about violence locally, including one time when he had hid in a bunker. The fighting would normally end in a few days, he would say, adding that he didn't feel unsafe.
Workers' rights experts, however, say migrant workers are especially vulnerable. Often employers and middlemen neglect to brief them properly about how to protect themselves, and a language barrier means they have less access to information, said Assia Ladizhinskaya, a spokesperson for Kav LaOved, which advocates for marginalised workers in Israel.
"Many workers, they have never heard a siren before. We have been interviewing workers in previous wars and they didn't know this sound means danger – they didn't know that they have to run and hide," said Ladizhinskaya.
If the field is far away from houses, they might not even hear a siren. Nor would Iron Dome, Israel's anti-missile system that intercepts rockets launched from the Gaza Strip, protect the kinds of open spaces where they worked, she added.
On the day of the Hamas attack, in which 1,400 Israelis were killed, Kav LaOved received messages from migrant workers, some asking where they should go to hide.
According to the Israeli newspaper Haaretz, some workers hid in orchards from early morning until 11am the next day. "A government that abandoned its citizens certainly abandoned the workers who grow its fruit and vegetables," Hareetz wrote.
Thousands of Thai workers have been evacuated by their government over recent weeks. Some, though, are worried about returning home as they paid large fees to work abroad.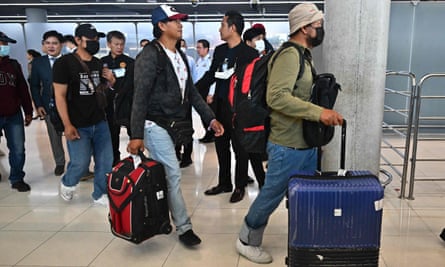 "A lot of them have taken loans, either from banks or the informal sector. They've mortgaged land or a house," said Phil Robertson, the deputy director of Human Rights Watch's Asia division. "[The work arrangement is] predicated on the idea that the first year or two you're working to pay off debt," he added.
Thai workers were reluctant to complain, even when they faced mistreatment, due to the imbalance of power, said Ladizhinskaya.
She said Israel depended upon migrant workers but treated them as disposable. "Each time some group is becoming more aware of their rights … Israel finds a group which is weaker to replace them," she said.
In Israel, relatives of those being held by Hamas met the Israeli prime minister, Benjamin Netanyahu, on Saturday after gathering outside the defence ministry headquarters, asking to know what strategies were in place to free the captives. Many fear their loved ones could be killed in airstrikes as Israel proceeds with its escalated assault on Gaza.
Israel estimates of the number of Thai nationals taken hostage are higher than those given by authorities in Bangkok. It said last week that 54 Thai nationals were among the 220 hostages taken. The Thai prime minister, Srettha Thavisin, however, said it was possible the Israeli figure included a combination of confirmed deaths, abductions and missing people.
At a UN General Assembly meeting last week, the Israeli envoy to the UN showed a brief video, which he said showed a Hamas fighter trying to decapitate a man with a garden tool during the 7 October attacks. Ambassador Gilad Erdan told diplomats the victim was a Thai agricultural worker.
Thailand said the video had "stirred a sense of outrage not only among Thais but undoubtedly people throughout the world". It also criticised the decision to play the video, saying this failed to show "proper respect and due consideration" for the deceased and his family.
Komkrit's father said the family received updates from the Thai authorities every few days. "The latest was that they said all the hostages are safe but they don't know the location," he said.
His wife was initially unable to eat or sleep when they heard Komkrit had been taken, he said. But she had become stronger and was keeping hope, he added.
"I would like to tell my son to please be patient and strong. I am fine," he said. "Please be safe, take care of yourself."