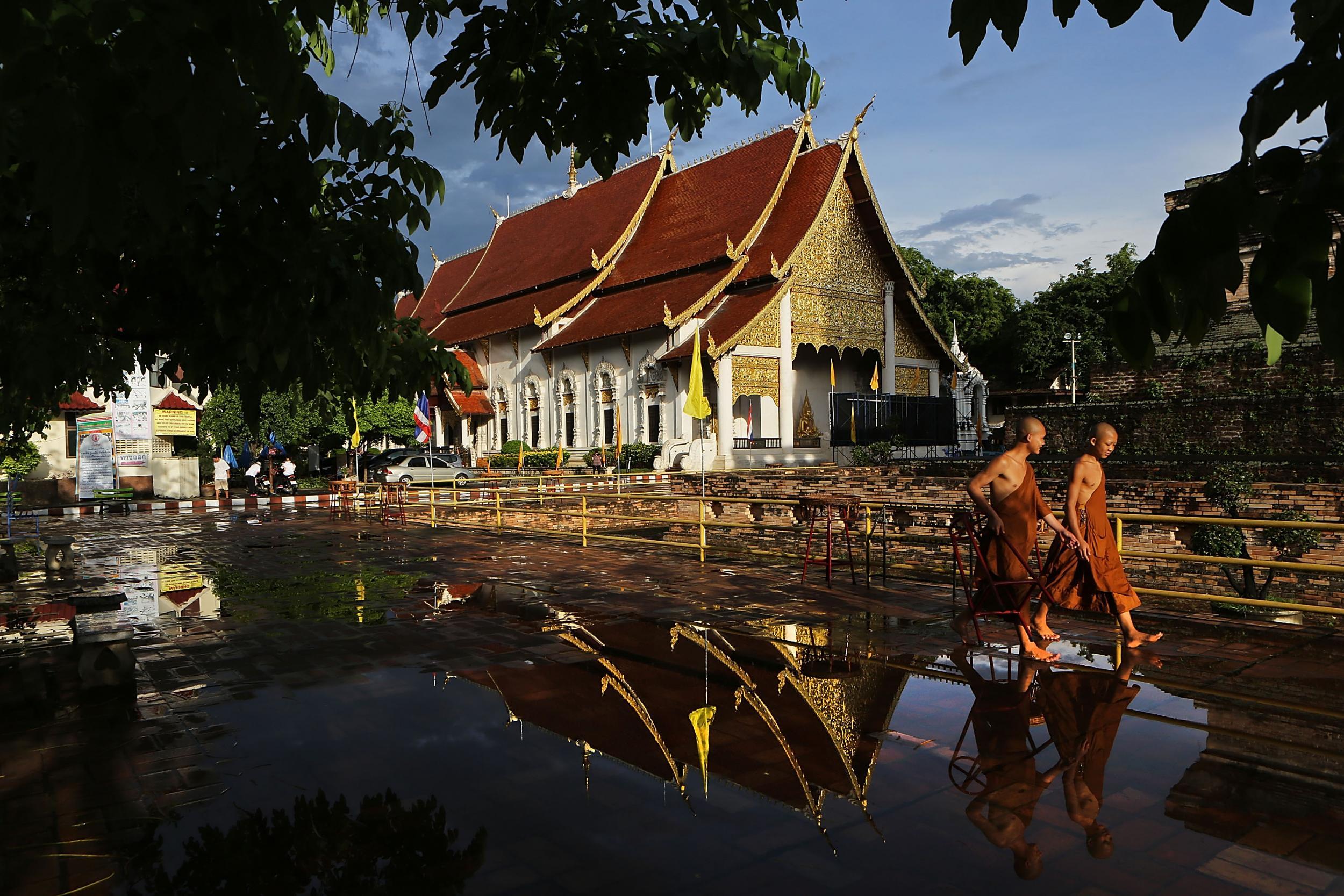 Why go now?
No longer just the temple-studded gateway to Thailand's jungly, mountainous north, Chiang Mai has a new draw: it's Asia's coolest creative city. In recent years Chiang Mai has become a hub for digital nomads and creatives thanks to cheap rents, fast 4G connections and an explosion of co-working spaces such as Punspace Nimman (1) and Mana Coworking (2).
Hipsters aside, if you're here in April, the annual Songkran (Thai New Year) celebrations turn Chiang Mai into a giant water fight. That's great timing, since the temperatures nudge a sweaty 40C during spring.
Join Independent Minds
For exclusive articles, events and an advertising-free read for just
£5.99
€6.99
$9.99
a month
Get the best of The Independent
With an Independent Minds subscription for just
£5.99
€6.99
$9.99
a month
Get your bearings
Anchored by the Ping River (3), a tributary of the Chao Phraya, second city Chiang Mai feels almost sleepy compared to Bangkok. This is no bad thing: Chiang Mai's compactness is its biggest asset.
The main temples and markets all lie within the old city walls, an area of one square mile. You'll probably want to sleep outside of it, though – its streets are thronged with tuk-tuks, backpackers on motorbikes and cheap massage joints. Chiang Mai, once the capital of the ancient kingdom of Lanna, runs on tuk-tuks and you can get almost anywhere in the back of one – even to the departures door of the airport (4).
The government tourist office (5) (tourismchiangmai.org) is on Chiang Mai-Lamphun Road, although you'll find your hotel is more useful when it comes to organising tours and suggesting itineraries.
Day one
Take a view
The view from sacred Wat Phra That Doi Suthep (6), Chiang Mai's main temple, is the city's most blockbuster panorama. It's even more spectacular at sunrise if jetlag's got you in its clutches – the only downside being you'll have to climb 309 stairs up the Naga Serpent Staircase to see it.
Dating back to the 14th century and still a working monastery, the gilded temple complex is 15km outside the city. Make your way past orange-draped monks, golden spires and shrines to the far side of the wat for a view over Chiang Mai and the lush mountains beyond. If you don't fancy the full day's hike up the hill, flag a songthaew – a pick-up truck acting as a shared taxi – from the Old City (7).
Take a hike
Back down the hill, get your songthaew to leave you at Nimmanhaemin Road (8), the epicentre of hipster Chiang Mai, where South-east Asia's espresso-fuelled digital nomads have made their home. Walk down the kilometre-long road (they call it "Nimman") and spy them tapping on fancy laptops, drinking tiny coffees at Ristr8to (9) (0066 53 215278; ristr8to-coffee-chiangmai.com) at number 15/3, famed for its latte art; sipping European beers at Beer Republic (10) (0066 53 216568; beerrepublicchiangmai.com) at number 11; or nosing around the rotating art and installations at cosy Gallery Seescape (11) (0066 93 831 9394; facebook.com/galleryseescape) at 22/1. 
Lunch on the run
Yayee Hotel (12) (0066 99 269 5885, hotelyayee.com), at 17/5 Sainumphueng Road, is the hipster lunch venue of choice ("yayee" means "darling" in Thai). The in-house Hungry Heart Café serves a menu spanning Northern Thai and Western plates and the cocktails (if you make lunch a liquid one) come from mixologist Nath Arjharn, newly arrived from Bangkok bar Hyde and Seek. It's not just for lunch, though; come back after 5pm, when the rooftop opens, for fantastic panoramas overlooking the northern Thai hills and Doi Suthep (6).
Cultural afternoon
You might've come to Chiang Mai to hang out with South-east Asia's creatives, but you'll want to see some temples too – there are over 300 in the city alone, and some of the most impressive are within the Old City walls. Start at bling Wat Phra Singh (13), guarded by golden lions. Cool off with a fresh juice from the stalls outside before walking up to vast Wat Chedi Luang (14), a crumbly, terracotta, elephant statue-studded complex.
An aperitif
When the sun goes down, Charoenrat Road (15), on the banks of the Ping River, amps up. At number 89, join local musicians and blissed-out tourists sitting cross-legged on rattan mats, listening to grungy live bands and slurping huge bottles of icy Chang beer at The Old Place (16) (0066 61 318 1256; facebook.com/theoldplacecafe).
Dine with the locals
A few doors down, at 25-29 Charoenrat Road, you'll find The Gallery Restaurant (17) (0066 53 248601; thegallery-restaurant.com), a riverside joint that fuses local art and food. Standout dishes include sour/spicy tom yum soup and khao soy noodles (made with coconut milk and usually chicken, a Chiang Mai specialty). It's a local restaurant with high-class visitors: Hillary Clinton paid a visit in 1996. If that doesn't suit, try smart, candlelit Riverside Bar & Restaurant (18) (0066 53 243239; theriversidechiangmai.com) nearby at 9-11 Charoenrat Road. 
Day two
Out to brunch
Just south of Chedi Luang (19), at 175/12 Rachadamnoen Road, is My Secret Café in Town (20) (0066 81 499 9911; facebook.com/mysecretcafeintown), though it's anything but secret. Soothe your hangover with smoothies, Thai ice tea and pastries (including gluten-free goodies, naturally) in its mosaic- and flower-filled setting. It's not just one for brunch – it's open 8am-10pm, and if you're here on a Tuesday night, there's live music.
Window shopping
The still-developing district of Wat Umong (21) is home to a newly built "artists' village", Baan Kang Wat (22). On Sundays, alongside the coffee shops, tiny galleries and gift boutiques, local artisans gather to sell their work in leafy surroundings. Films are screened in the intimate amphitheatre. It's open 11am-6pm, Tuesday to Sunday. Afterwards, waltz over to flamboyant The House (23) (0066 53 4190 1113; thehousethailand.com) at 199 Moon Muang Road, a shop-restaurant combo where you'll find a mash-up of local art, French DJs streamed through the sound system, a mini boutique selling bold kitchenware and trinkets, and homemade cakes and smoothies. It's open 9am-11pm.
Take a ride
Around 40 miles outside the city is the Elephant Jungle Sanctuary (24) (0066 95 698 4422; elephantjunglesanctuary.com), a conservation effort spearheaded by Chiang Mai locals and hill tribes to protect Thailand's pachyderms. A half-day tour (12-6.30pm, £40) allows you to interact with the animals in a safe but playful environment – you'll feed them bananas, give them a mud bath and then wash them off in the river.
The icing on the cake
The night bazaar (25) on Chang Klan Road does tender skewers of gai yang (grilled chicken), buckets of fresh juices, slices of durian and mango and bowls of khao soy for pocket change. Its lively atmosphere and trendy crowd don't hurt, either. Open 7pm-12am daily.
Travel essentials
Getting there
Flying from the UK will require a stopover either in the Middle East or Asia. Thai Airways (0844 561 0911; thaiairways.com) flies via Bangkok from £511 return.
Chiang Mai International Airport is a 15 minute drive from the centre. As the airport is so close to town, public transport is limited – but there are plenty of cheap private options. The easiest way is to flag a tuk-tuk or a songtheaw outside the terminal building, where you'll pay no more than 100 baht to your hotel (around £2.20). Alternatively, find the pre-paid taxi stand outside arrivals. You'll get a coupon with the price written on it (no more than 300 baht, around £6.70 – barter it down if the quote is higher than this) and then pay at your destination.
Staying there
It's no typo – boutique bolthole Nimman Mai Design Hotel (26) (0066 53 400 567; nimmanmaihotel.com) on Nimman is so hip it has that question mark in its name. Interiors are inspired by different countries along the Silk Road. Doubles from around £50 per night, B&B. 
Sridonchai Road's urban resort Yaang Come Village (27) (+66 5323 7222, yaangcome.com) is quiet and jungly with an Instagrammable pool and rustic rooms, all with balconies. Doubles from around £100 per night, B&B.
The best hotel in town is the turbo-luxe Anantara (28) (+66 53 253 333, anantara.com) on the banks of the Ping River. The vibe is colonial-meets-contemporary-Thai – it's a tranquil place to relax for a few days. Doubles from £185 per night, B&B.
Visiting there
For on-the-ground tours, check out backyardtravel.com/destinations/thailand
More information
Source link